NEWS & TECH - MJ FABER Outdoor Shower Columns
ACTUATION BY TIMED PUSH BUTTON
Extended the range
of shower columns and columns footwasher
with timed actuation push button
(18-20sec) as follows:
for shower columns to 1 seat now available as well as on line Stilo One even on lines Stilo Classic 76, Stilo Curve 76;

for columns 2 positions shower now available on line Stilo Classic 76;

for foot-washing columns now available as well as on Stilo One LVP even on line Stilo 76 LR.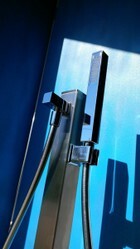 Small column with handle headshower with flexible
STILO Q50-QFLEX
column of water intake and Minimal handshower with flexible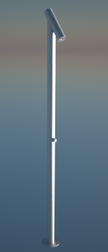 MINIMAL SHOWER, TIMED AND NON TIMED VERSIONS
Outdoor shower STILO ONE: TIMED (push button) and MANUAL (handle, mixer) versions.
Outdoor shower made in stainless steel AISI 316L (best alloy steel for marine environments).
Head shower for body with only one anti-scale hole, with the integrated flow reducer.
Consumption is 9 l/min, regardless of pressure.
Diameter column 76mm, tickness 2mm, tickness base column 6mm.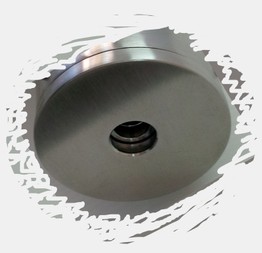 INTEGRATED SHOWERHEAD WITH SINGLE NOZZLE
SHOWERHEAD WITH SINGLE NOZZLE
Showerhead with single nozzle, built-in end column (variant available for showers mod. Stilo One, Stilo Curve CS).

Regarding internal headshower single nozzle the main features are:

Anti-scale
The jet of water pushed by the turbine cleans the hole so that servicing is kept to a minimum.

Tones up
The turbine creates a regular and intermittent supply of water so that the shower tones up and is very pleasant.

Constant water consumption
Consumption is 9 l/min, regardless of pressure.

The turbine is made in hostaform.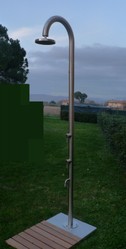 2 MIXERS INDEPENDENT
2 INDIPENDENT MIXERS USABLE ​​SIMULTANEOUSLY
Column shower with 2 MIXERS, then the foot wash has indipendent mixed water (it has an attach of 1/2"F usefull for other use),
SYSTEM AVAILABLE on these STILO line: CLASSIC, DROP, CURVE, CURVE CS
MINIMALIST ANCHORAGE AT WALL
MINIMALIST INSTALLATION AT WALL
Shower for INSTALLATION AT WALL and supply water AT WALL,
SYSTEM AVAILABLE on all STILO line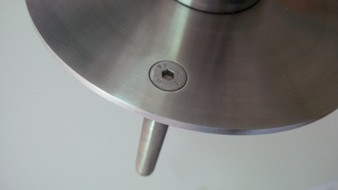 MINIMALIST ANCHORAGE AT FLOORING
COLUMN BASE WITH MINIMALIST ANCHORAGE
Anchored on flooring with the flush screws on the base plate of the shower/column
UNION OF TWO CURVES...
Outdoor shower at 2 places,
available more versions, at one (cold or premixed) or two water supply (cold+ hot)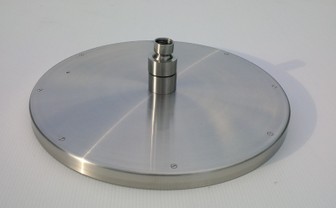 HEAD SHOWER 300MM DIAMETER IN SS AISI 316L
LARGE SHOWERHEAD IN STAINLESS STEEL AISI 316L
Anti-limescale showerhead, diameter 300mm, in stainless steel aisi 316L, with ball join in ss aisi 316L too, finishing availables brushed and mirror polished
Our products are made in stainless steel AISI 316L - sea quality.
Finishes by craftsmanship:

- brushed (radial or axial),
- mirror polished,
- grinded.

Info about the mixer of the lines Stilo:
- all part of mixer body (internal and external) are in ss aisi 316L,
- the cartridge of the mixer has these useful features:


Twin Brake
Exclusive double brake system for slow closing of the mixing valve. This new product applied to faucets will avoid the dangerous water hammer that, besides generating annoying noises, also damages faucets and old plumbing systems.

Maximum Temperature Limitation System
This system enables the limitation of water temperature. Rotate the ring in the (-) direction to reduce the maximum temperature in the hot water position.
Rotate it in the (+) versus to increase the minimum temperature.
With a 50° difference between hot and cold water, you get an approximate variation of 7° per each tooth.